An alternative way to talk about our craft: Learnings from Tuesday Night Testing
The timer buzzed and Mark was cut off from speaking. Such is the abruptness of Lean Coffee. A majority of upwards facing thumbs appeared on the many video screens in front of me. The discussion continued as I frantically captured notes.
Luckily I didn't have my early morning fuzzy head on. It was 8pm on a Tuesday night and we shared a treasure trove of ideas and thoughts related to testing. It was a joy!
I'd found an amazing way to connect with other testers in a environment that felt comfortable, open and great fun. This was Tuesday Night Testing.
I'm grateful to the following people who were willing to share their experiences: Amit Wertheimer, Amy Phillips, Andrew Fraser, Gem Hill, Mark Winteringham and Nataliia Burmey.
In this post I'll share thoughts and ideas captured at the first two Tuesday Night Testing sessions.
If you'd like to learn how you might run a session then take a look at: How to run Tuesday Night Testing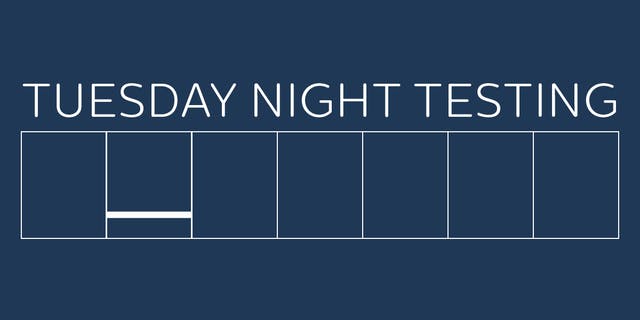 How do you sell testing to non-testers?
It's super important to communicate what testing really is and discuss any misunderstandings about our craft. It's just as important to identify who you're selling to. What can testing do for them? Why should they care and how will it affect them in a positive way? Be sure to reiterate that us testers aren't gatekeepers. Try to speak in the language of the person you're selling to instead of using testing terminology.
How do you encourage testers who are in a slump to get involved in the test community?
Some test professionals don't enjoy their work day. The last thing they want to do is go to an event in the evening and immerse themselves in more testing! If someone's not interested then there's only so much you can do. Perhaps it goes beyond a testing problem and it's more of a leadership issue. Encourage those who do get involved in the test community to bring some of the good stuff back into the company.
Who decides which bugs to fix?
The whole team should own bugs and ensure responsibility does not sit with the tester. Triage with a developer, a business representative and a tester. The tester should capture as much information as possible to help with the triage. Use Oracles to help determine the impact of each bug on your end users. Sometimes you might convince yourself a bug needs fixing whilst others might not think so. It's worth considering how much goodwill you'll affect if you think this bug has more importance than what other people think.
How do you keep track of progress without resorting to measuring bugs?
Every team should decide what metrics are important. As a manager try to encourage that information is pushed to you instead of having to pull information. Exploratory testing can help even with a traditional project manager. It's useful to track how many SBTM sessions are remaining whilst tracking time spent raising bugs.
What's it like at TestBash?
Going for the first time can be scary but it gets easier the next time round. You'll always have someone to talk to. It can sometimes take a while to get into conversations. The more you put in the more you get out of it. The number of people recruiting in the early days of TestBash was overwhelming. Hang out with recruiters and you'll get free beer.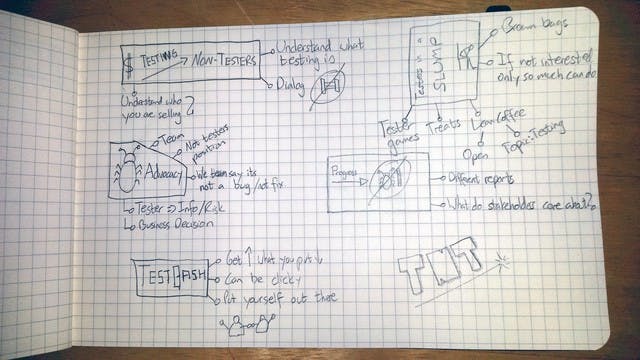 Image credit: Andrew Fraser
How do you know you are a good tester?
It's easy to not receive feedback as a tester. Push to get both internal and external feedback. We deliver stuff and it meets all acceptance criteria but we miss feedback from our end users. Get feedback from co-workers, other testers, developers and support people about the service you provide. If you're not doing much then that's a useful indicator. Create rapid feedback loops to help uncover unknown unknowns. Surprise yourself by pairing with other testers.
What do you think the testing community is missing?
There's a real gap in the community to learn the fundamentals of testing. Perhaps the community needs more things like the Software Testing Clinic. Let's look for and encourage the next generation of testers and instil the benefits of community within them.
Can you get bored of testing?
To avoid boredom it helps if someone has a sense of control and sets out to master their craft. People want to contribute to a purpose and connect with others. Clear progress and a sense of achievement also helps reduce boredom. It's difficult to imagine getting bored of testing but a boring testing job is feasible. Some people get bored when you speak to them about testing so it's worth exploring where the boredom comes from.
How do you create and run an internal testing community?
Create a framework to help and encourage discussion. Run Lean Coffee and organise show and tells. Create a board/working group, invite testers to join and let them set topics of discussion. Add this to a developmental goal. Encourage testers to do lightning talks about what they've just learnt. Invite developers into the community. Socialise your ideas on a 1-2-1 basis before sharing with the wider community.
Over to you
I'd love to hear your views. What thoughts do you have about Tuesday Night Testing? If you didn't attend, are these learnings helpful? Would you like to join a future session? Do you feel inspired to run your own TNT?
Main image credit: Jamie Street